Introduction: Internationally: Metropolitanisation
At the present time, the multinational Russian Orthodox Church is going through a period of restructuring, known as 'Metropolitanisation'. Thus, inside the huge Russian Federation extremely large dioceses, sometimes covering territories with nominal Orthodox populations of perhaps two to four million and the size of large Western European countries like France, are being divided. Each is becoming a Metropolia, typically with four or five dioceses of some 100 parishes each, led by a Metropolitan in the centre. The aim is to bring the bishops closer to the people. As a result the Church already has nearly 300 bishops, over twice as many as in 1917, as well as hundreds more potential candidates.
In this way the hierarchy of the Russian Orthodox Church is striving to meet its responsibilities towards the faithful. In Moscow in May 2012 His Holiness Patriarch Kyrill made it clear to us that he would like, with time, to see this process extended worldwide to countries outside the canonical Russian Orthodox territory (the territories of the former Russian Empire, apart from Georgia and Poland, plus China and Japan). In other words, we are talking about the territory of the Russian Orthodox Church Outside Russia (ROCOR). This would create Metropolias in the large, continental areas of Western Europe, North America, Latin America, Australasia and perhaps also Alaska, formerly called 'Russian America'.
As was made clear again at the London Conference of October 2012, all Russian Orthodox parishes and monasteries in Western Europe will eventually come under ROCOR administration. (Of five possible Metropolias outside Russia, we would think that perhaps South America and Alaska might initially come under administration from Moscow, whereas North America, Western Europe and Australasia would come under ROCOR). As we suggested as long ago as 1986 and as was published later, such a Russian Orthodox Metropolia of Western Europe, probably centred in Paris and with a seminary, could be divided into six dioceses, three Latin-speaking and three Germanic-speaking, and have at least seven bishops. In 2003 Patriarch Alexis II publicly announced this long-awaited hope for a Metropolia in Europe, centred in Paris, as proposed by the then Metropolitan Kyrill.
The six dioceses of such a Metropolia of perhaps 400 churches would be: the French Lands – France, French Switzerland, southern Belgium and Luxembourg (72 million and perhaps 70 churches); Italy, Italian-speaking Switzerland and Malta (62 million and perhaps 60 churches); Iberia – Spain and Portugal (58 million and perhaps 60 churches); the German and Dutch Lands – Germany, Austria, most of Switzerland, the Netherlands and Flemish Belgium (118 million and perhaps 120 churches and therefore two bishops); the British Isles and Ireland (68 million and perhaps 70 churches); Scandinavia – Sweden, Denmark, Norway and Iceland (20 million and perhaps 20 churches; a small number of parishes but a huge territory for one bishop).
In this way, with each of the 400 parishes covering on average a catchment area of about 50 miles (80km) in diameter, about 2,000 square miles (about 5,000 sq km) in area, most of the territory of Western Europe would be covered. We do not as yet have this multinational Metropolia of 400 parishes to cover a population of just under 400 million. However, the British Isles and Ireland, with a population of 68 million, would form the third largest of the six dioceses in it. As we do not build top-down in the Orthodox Church, but build up infrastructure pastorally, no Metropolia can exist without the grassroots. And it is from the grassroots that we could at least look to the possible future and how, both nationally and locally, the British Isles and Ireland and then England could fit into the Patriarchal vision of a larger local diocese of such a Metropolia.
Nationally: The British Isles and Ireland and England
Generally, Scotland, Wales and even Ireland, with a total population of just under 15 million, have lower levels of Orthodox population than England. Nevertheless, we would think of Scotland as having parishes in Glasgow, Edinburgh, Aberdeen, Dundee, Inverness and a chapel or monastic pilgrimage centre on Iona. We would conceive of Ireland as having parishes perhaps in Dublin, Belfast, Cork, Derry, Waterford and Galway. We would think of Wales as having parishes in Cardiff, Swansea, Aberystwyth and Bangor. This would make a total of 16 churches. Obviously locations would depend on local choices; the above are only suggestions. Let us now look in detail at England, which, though small, has nearly 80% of the island population.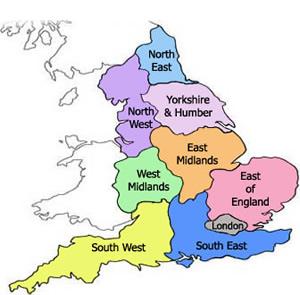 With an area of just over 50,000 square miles (130,000 sq km) and densely-populated with 53 million people, an average of just over one million per 1,000 square miles, England is divided into nine regions, as shown above. Each has different concentrations of Russian Orthodox inhabitants, but London above all and then the two regions nearest London have the largest concentrations. We would suggest that there should generally be one church, of varying size, for each catchment area of around one million people, given that the local Russian Orthodox population, however irregularly practising, is on average about one in a thousand. This would create potential parishes of around 1,000, although numbers attending on an average Sunday might only be 100-200.
Obviously, the concentration of Russian Orthodox population varies immensely, being highest in London, average in the towns of the South and East, and lowest in the rural areas of the North and the West. Therefore larger churches in Greater London and other very large cities would have very small catchment areas of perhaps only 50 square miles, whereas in the provinces smaller churches might cover between 500 and 2,500 square miles, on average about 1,500 square miles, depending on how rural the surrounding area is.
As can be seen below, there are exactly fifty cities and towns in England with populations of over 100,000. Logically, it is most of these centres of population which should be targeted to establish churches. It is true that a few of these cities and towns already have permanent, public-access, multinational Russian Orthodox churches, although four of these have been established only in very recent years. Notably, this is the case in London, although the parishes there are totally insufficient in number, with only two, one medium and one small, for an urban area population of over 11,000,000. Outside London a few cities and towns have become relatively better equipped – for example, Manchester, Liverpool/Birkenhead, Oxford and Colchester, although there is more to be done even here.
| | | |
| --- | --- | --- |
| City | City Population | Urban Area Population |
| London | 7,393,800 | 11,230,500 |
| Birmingham | 985,900 | 3,202,800 |
| Liverpool | 466,600 | 3,630,100 |
| Sheffield | 421,800 | 1,104,900 |
| Leeds | 420,300 | 1,498,500 |
| Bristol | 409,300 | 614,800 |
| Manchester | 394,300 | 394,300 |
| Leicester | 319,100 | 319,100 |
| Kingston on Hull | 309,100 | 309,100 |
| Coventry | 295,000 | 411,200 |
| Bradford | 290,400 | 290,400 |
| Nottingham | 271,400 | 632,300 |
| Stoke-on-Trent | 266,700 | 266,700 |
| Wolverhampton | 258,100 | 258,100 |
| Plymouth | 249,900 | 249,900 |
| Derby | 227,900 | 227,900 |
| Reading | 222,700 | 222,700 |
| Southampton | 211,500 | 733,600 |
| Newcastle on Tyne | 187,200 | 1,147,200 |
| Preston | 183,400 | 183,400 |
| Sunderland | 180,700 | 180,700 |
| Luton | 179,700 | 179,700 |
| Portsmouth | 176,300 | 176,300 |
| Norwich | 173,300 | 173,300 |
| Bournemouth | 161,800 | 161,800 |
| Southend on Sea | 160,900 | 160,900 |
| Swindon | 153,700 | 153,700 |
| Blackpool | 147,500 | 147,500 |
| Poole | 146,000 | 146,000 |
| Middlesbrough | 144,800 | 692,500 |
| Peterborough | 144,800 | 144,800 |
| Huddersfield | 143,500 | 143,500 |
| Bolton | 138,400 | 138,400 |
| Stockport | 133,000 | 133,000 |
| Ipswich | 131,400 | 131,400 |
| York | 126,200 | 126,200 |
| Brighton | 122,500 | 122,500 |
| Rotherham | 122,000 | 122,000 |
| Oxford | 121,700 | 121,700 |
| Gloucester | 117,900 | 117,900 |
| Watford | 115,400 | 115,400 |
| Slough | 113,300 | 113,300 |
| Blackburn | 105,600 | 105,600 |
| Basildon | 104,600 | 104,600 |
| Saint Helens | 104,400 | 104,400 |
| Northampton | 104,100 | 104,100 |
| Oldham | 103,700 | 103,700 |
| Woking-Byfleet | 102,800 | 102,800 |
| Chelmsford | 100,700 | 100,700 |
| Colchester | 100,300 | 100,300 |
In general, we would suggest that where towns of 100,000 + are near one another, only one permanent church is necessary. For example, from the above list: Sunderland is next to Newcastle; Blackburn and Blackpool are next to Preston; Bolton, Oldham and Stockport are next to Manchester; Rotherham is next to Sheffield; Huddersfield and Bradford are next to Leeds; St Helens is next to Liverpool; Derby is next to Nottingham; Wolverhampton is next to Birmingham; Ipswich, Chelmsford and Southend-on-Sea are next to Colchester; Reading is near Oxford; Basildon, Watford, Woking-Byfleet and Slough would come under London urban area parishes; Portsmouth is next to Southampton, Bournemouth is next to Poole. Only one of these towns need have a church.
Nevertheless, if we were able to plan to provide cover for most of England with permanent, public-access, multinational churches, faithful to the Russian Orthodox Church and calendar, then we would need: in London nine more churches; in Birmingham three churches; in Liverpool two more churches (as there is already one in nearby Birkenhead); one church in each of Sheffield, Leeds, Bristol, Leicester, Hull, Coventry, Nottingham, Stoke, Plymouth, Southampton, Newcastle, Preston, Norwich, Bournemouth, Swindon, Middlesbrough, Peterborough, York, Brighton, Gloucester, Luton (St Albans) and Northampton.
According to the above, we are suggesting the obtaining or building of no fewer than 36 more churches, in addition to the five already established. The aim of this path is to ensure that the Russian Orthodox Church and its liturgical calendar are permanently accessible to the interested population in England, in English and Slavonic. However, even such a minimal schema of establishing a church, whether large or small according to local needs, for about every one million people in the main local centres of population, so that most should not have to travel more than 25 miles in a straight line (so in fact further, as one cannot travel in straight lines) to get to church, means that areas with several towns, but all with populations fewer than 100,000 and relatively more rural areas have been omitted.
For example, even in the above schema there is, surprisingly, no church in Kent, the south-west outside Plymouth, Herefordshire, Worcestershire, Shropshire, Lincolnshire, Northumberland and Cumbria. Therefore, it would also seem sensible to hope to establish 13 other churches or monastic pilgrimage centres, perhaps in: Canterbury, Exeter, Barnstaple, Truro, Hereford, Worcester, Shrewsbury, Lincoln, Lindisfarne, Carlisle, as well as in Newport in the Isle of Wight, in Douglas in the Isle of Man and in the Channel Islands. This would mean a total of 54 churches in England and altogether 70 churches for the Russian Orthodox portion of the 68 million in the British Isles and Ireland.
Locally: The East of England
What of the Patriarchal vision locally? The East of England is in area the second largest of the nine English regions. It covers the six counties of Norfolk, Suffolk, Essex, Cambridgeshire, Bedfordshire and Hertfordshire. The regional population at the 2011 census was 5,847,000, 11% of the total population of England, making this an 'average' region. The largest towns are Luton, Basildon, Peterborough, Southend-on-Sea, Norwich, Ipswich, Cambridge, Chelmsford and Colchester. This region has an average number of Russian Orthodox, because it is near London and also because it faces Eastern Europe, especially the Baltic States, from where many have come. Therefore, with a population touching six million, though with many in Essex and Hertfordshire living in the Greater London urban area, the region should have five church centres, of which today only one exists.
At present the East of England Orthodox Church (EEOC – a charitable trust) is set up in Colchester (population: 104,390). This trust is the owner of the only permanent, Russian-speaking and English-speaking church in the region which is in Colchester. At present this covers not only its natural catchment area of Essex outside London and Suffolk, but much of the region and even beyond. This natural catchment area of some one and a half million includes Southend-on-Sea (174,300), Ipswich (133,384), where we are helping a new Russian Orthodox mission, Chelmsford (120,000) and several smaller towns like Clacton, near where there is now also a mission, Braintree, Witham, Sudbury and Felixstowe, from where this whole East of England mission began. The local saints are: St Helen, St Botolph, St Cedd, St Osyth, St Edmund.
However, at the present time, because of the lack of permanent Russian-speaking and English-speaking centres faithful to the Russian Orthodox Tradition and calendar in the region, our flock is drawn from all over the East of England. On occasion it even comes from outside it, from London, the South East and the East Midlands. Therefore, if God wills and if there are faithful who wish this and can make the necessary sacrifices, we should be looking to setting up other permanent, Russian-speaking and English-speaking centres, faithful to the Russian Orthodox Tradition and calendar. Initially, we would suggest a minimum of four other centres of population as possible locations in addition to Colchester, perhaps as follows:
1. Norwich (173,300). The natural catchment area of about one million covers most of Norfolk and North Suffolk, includes Great Yarmouth (68,317), Lowestoft (64,358), Thetford (21,588) and smaller towns. This area has been our priority for several years, so far without success, with parishioners travelling to us from Norwich every weekend. Local saints: St Walstan, St Edmund, St Felix. Given the very many medieval churches and dedications in this city, perhaps the church could be dedicated to All Saints.
2. Peterborough (144,800). Although just inside Cambridgeshire, the natural catchment area covers towns outside the East of England region, including Boston (58,124), King's Lynn (42,800), Spalding (28,722) and Wisbech (20,200). Although this catchment area is small, it has a high proportion of Russian Orthodox immigrants from Eastern Europe and especially the Baltic States and it must be a priority. Local saints: St Peter, St Paul, St Guthlac, St Huna, St Wendreda, Martyrs of Crowland. Given the city's name, the church should be dedicated to Sts Peter and Paul.
3. St Albans (58,000). Although this is a small town near the much larger Watford and Luton, it would seem only right for historic reasons that a church centre be established precisely here, in the city of the first martyr of the British Isles and dedicated to him. The natural catchment area of some one and a half million covers most of Bedfordshire to the north, Hertfordshire outside London to the south and even the west of Essex. Just to the north of London, it is surrounded by other towns, both larger and smaller. These include: Luton (179,700), Watford (115,499), Harlow (94,365), Stevenage (84,651), Hemel Hempstead (81,143), Bedford (79,190) and several smaller towns. (Watford and Hemel Hempstead are officially included in the Greater London urban area). Local saint: St Alban. The church should be dedicated to St Alban and built in a Roman style and roofed with pantiles, as was the church in Silchester.
4. Cambridge (123,900). The catchment area includes smaller towns in Cambridgeshire, west Suffolk and north-west Essex like Bury St Edmunds (35,015), Haverhill (25,000), Huntingdon (19,830), Newmarket, Saffron Walden and Ely. Although this is a smaller catchment area, it is important because of the very high numbers of Russians at the University of Cambridge. (There are over 1,000 members of the Cambridge Russian Club and over 200 children at the Russian School). Local saints: St Audrey, St Neot, St Ives, St Pandwyna. Given the University here, perhaps the church could be dedicated to the Three Hierarchs.
Colchester and these four towns actually form a cross drawn over the East of England. It is true that there are already other Orthodox groups and missions in the East of England, either using temporary/Anglican premises or else domestic chapels. However, most of these are not Russian Orthodox or exclude those who live by the Church calendar, and all generally cater for only one nationality or national sub-group, for instance, Greek, Romanian or ex-Anglican. In any case, none is permanent and public-access and caters for the multinational, Russian-speaking and English-speaking Russian Orthodox Tradition and calendar. However, all of these chapels and structures play their role too in regional Orthodox life, by looking after individual national groups, whether larger groups from Eastern Europe or small convert chapels with ex-Anglicans. If some would like, on a purely voluntary basis, to join in the above scheme for a local Orthodoxy, all the time remaining in their Mother Churches, obviously that would be welcome.
Conclusion
As an example of a diocese of the future Metropolia, we have taken the British Isles and Ireland, but have focused on that part of the diocese where most Russian Orthodox are concentrated – England. From here we have focused on one region, as a kind of case study – the East of England. We have suggested that in England regional church centres should be established to cover about every one million people, meaning that ideally 54 churches should be established if the needs of the multinational Russian Orthodox population are to be met. At present there are only five such churches – only about one tenth of our initial work has been done.
The fact that we can even discuss such a vision shows, however, a remarkable shift from even a few years ago, when such a thing would have been unimaginable. Of course, these are still abstract propositions, set out only to stimulate thought. In reality, all will depend on the existence of this Metropolia, its infrastructure and suitable personnel, and also on where locally the multinational Russian Orthodox population is concentrated and on its needs, abilities and willingness, both financial ability and, above all, the human willingness to make sacrifices for the Church. We need adequate infrastructure, not only Church buildings, but also Church halls and rooms with toilets, kitchen and car parking, accommodation for clergy and choir directors and investment to provide salaries; but above all, we need people who have faith and want churches.
Some will dismiss all the above suggestions for a Western European Metropolia as fantasy. But given that many large towns and cities in Western Europe already have churches, some of these churches even built in the 19th century, or at least communities, we are talking of perhaps one billion euros to establish this Metropolia of 400 churches. This is an impossibly huge sum for us, but a small sum for a Russian oligarch – for example. Churches come into being through the grace of the Holy Spirit inspiring human motivation, faith. It is true that if there is no faith to be inspired, then there is no hope, for hope is always the result of faith. It is true that all 'plans' are therefore only abstract. And realities can often turn out to be very different from our hopes, which have to be blessed in order to become reality. As ever: man proposes, but God disposes.
Appendix
Possible Dedications for Russian Orthodox Churches in the British Isles and Ireland
England
Already existing:
London: The Dormition and All Saints / The Dormition and The Royal Martyrs
Oxford: St Nicholas
Birkenhead: St Elizabeth the Grand Duchess
Manchester: The Protecting Veil
Colchester: St John the Wonderworker / All Saints of the Isles
New
Barnstaple: St Morwenna
Birmingham (3): The Exaltation of the Cross, All Saints of the Isles, St Seraphim of Sarov
Bournemouth: St Edward the Martyr
Brighton: St Andrew the Apostle
Bristol: St Nicholas
Cambridge: Three Hierarchs
Canterbury: Christ the Saviour
Carlisle: St Ninian
Coventry: The Transfiguration
Douglas (Isle of Man): St Maughold
Exeter: St Boniface
Gloucester: All Saints
Hereford: St Ethelbert
Hull: St Hilda
Leeds: The Baptism of the Lord
Leicester: St Thomas the Apostle
Lincoln: St Paulinus
Lindisfarne: St Cuthbert
Liverpool (2): The Baptism of the Lord, St Nicholas
London (9): Holy Trinity, The Resurrection, The Nativity of Christ, Sts Peter and Paul, St Pancras, St George, St Augustine of Canterbury, St Edmund, All the Saints of the Isles
Middlesborough: St Bede the Venerable
Newcastle: St Aidan
Newport (Isle of Wight): St Boniface
Northampton: St Michael the Archangel
Norwich: All Saints
Nottingham: St John the Theologian
Peterborough: Sts Peter and Paul
Plymouth: St John the Baptist
Preston: St John Chrysostom
St Albans: St Alban
Saint Helier: St Helier
Sheffield: The Ascension
Shrewsbury: St Winifred
Southampton: Sts Peter and Paul
Stoke on Trent: The Meeting of Christ
Swindon: The Resurrection and St Alfred
Truro: St Michael the Archangel
Worcester: The Annunciation
York: Sts Constantine and Helen
Scotland
Aberdeen: Sts Peter and Paul
Dundee: St Nicholas
Edinburgh: St Andrew the Apostle
Glasgow: St Kentigern
Inverness: The Resurrection
Iona: St Columba
Ireland
Belfast: The Transfiguration
Cork: St Finbar
Derry: The Resurrection
Dublin: St Patrick
Galway: St Brendan the Voyager
Waterford: St Brigid
Wales
Aberystwyth: St David
Bangor: St Deiniol
Cardiff: St Nicholas
Swansea: The Resurrection and Sts Julius and Aaron